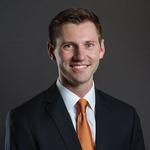 Updated by Chandler Julian
The Employees screen provides a full list of employees in the database. From this screen, you can add new employees and edit multiple data elements for an employee. The individual employee screen consists of four sections, Personal, Employment, Plans and Retirement.
The personal information should be kept up-to-date to ensure the deliver of communication about compensation and benefits.
Employee List
The employee list allows you to view multiple employees at once along with some of their basic information. Use the filtering criteria at the top of the page to further refine your list. You may also use the employee name filter feature.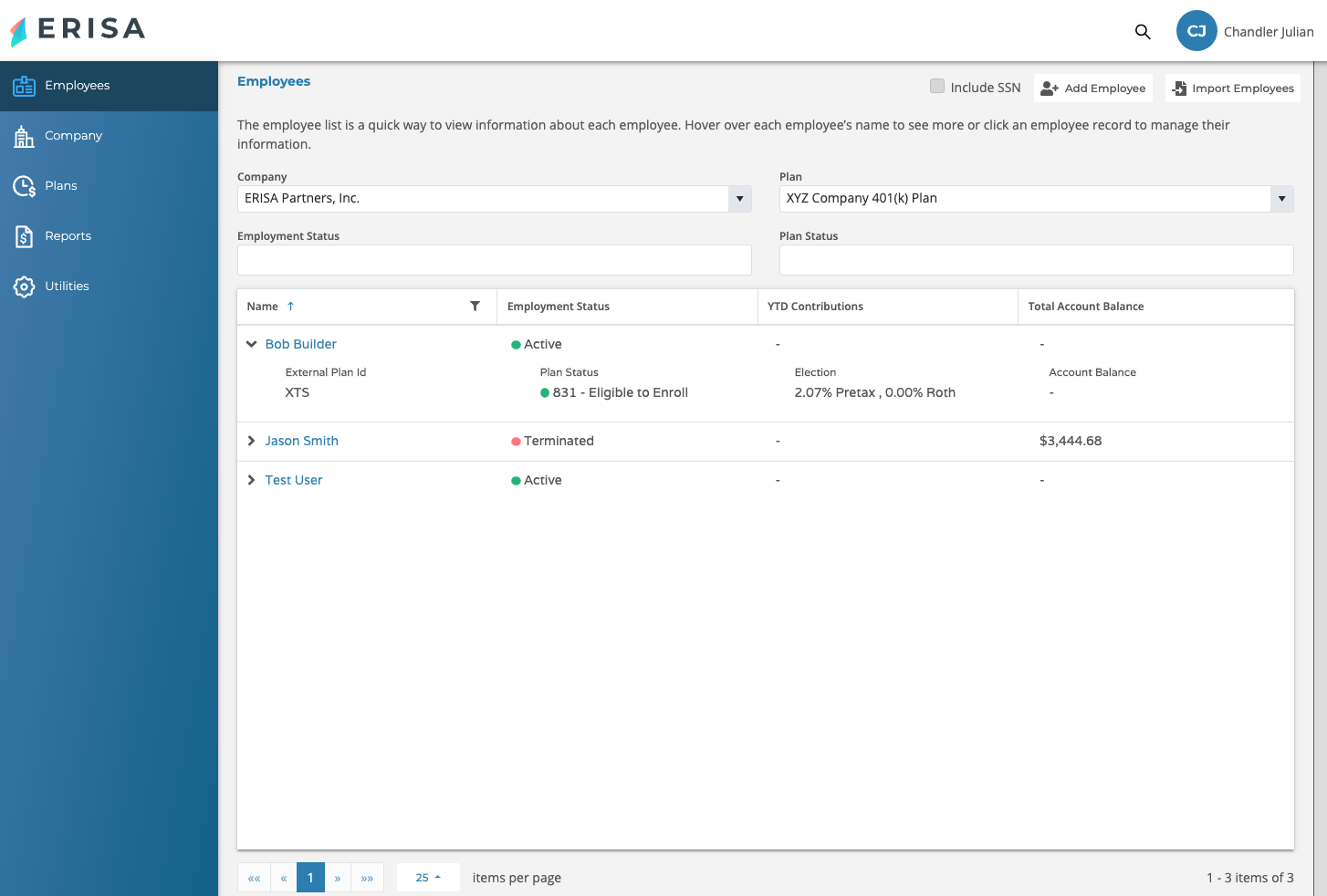 Hover over an employee's name to view even more information.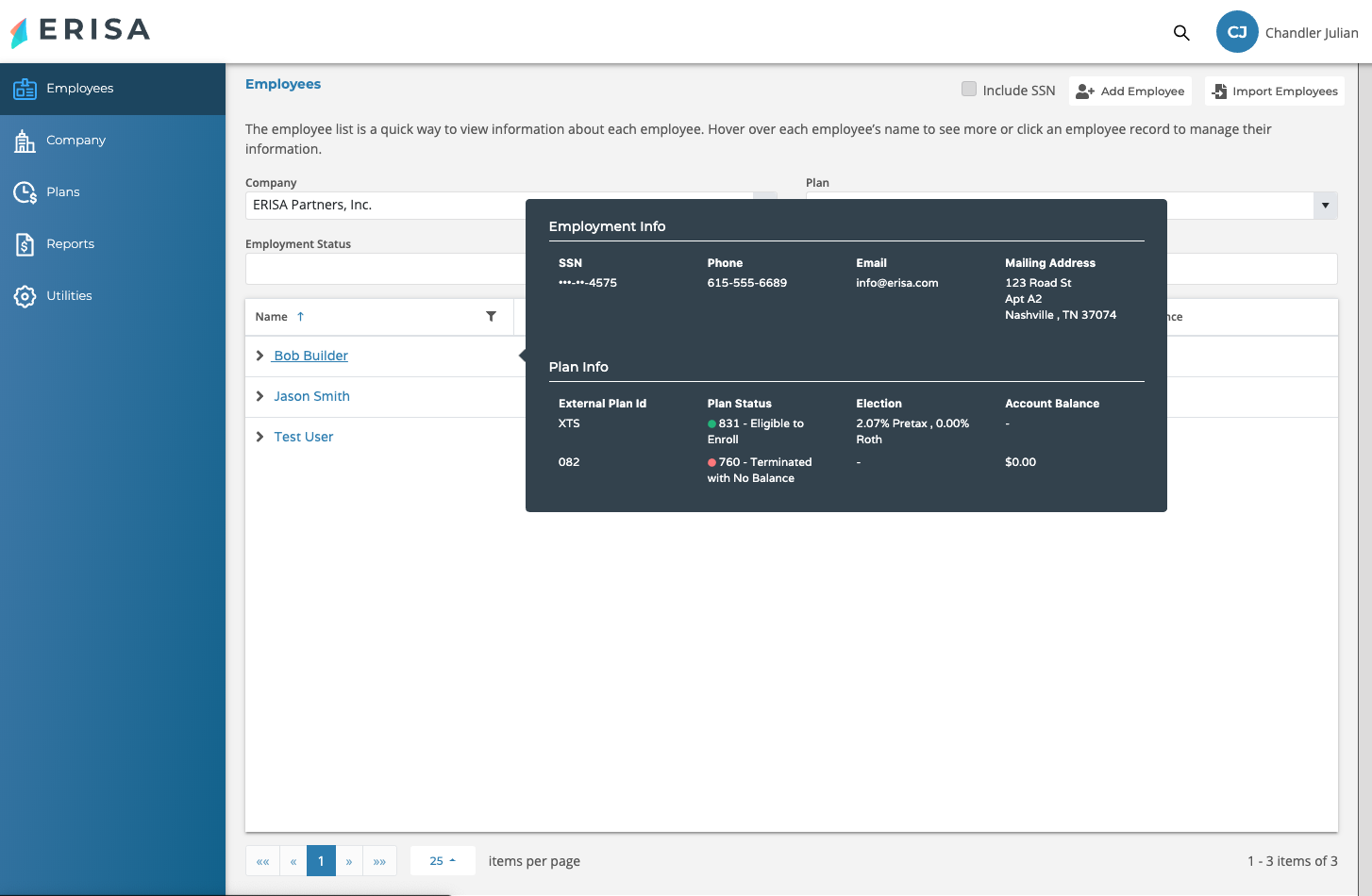 After clicking on an employee's name, you will navigate to their record detail page. From here, you can view the full details of their employment history, documents, notes, retirement plan elections, and more.
Personal Information
The personal information screen is where you can view and modify personal information for the employee - name, email address, mailing address, phone number, etc.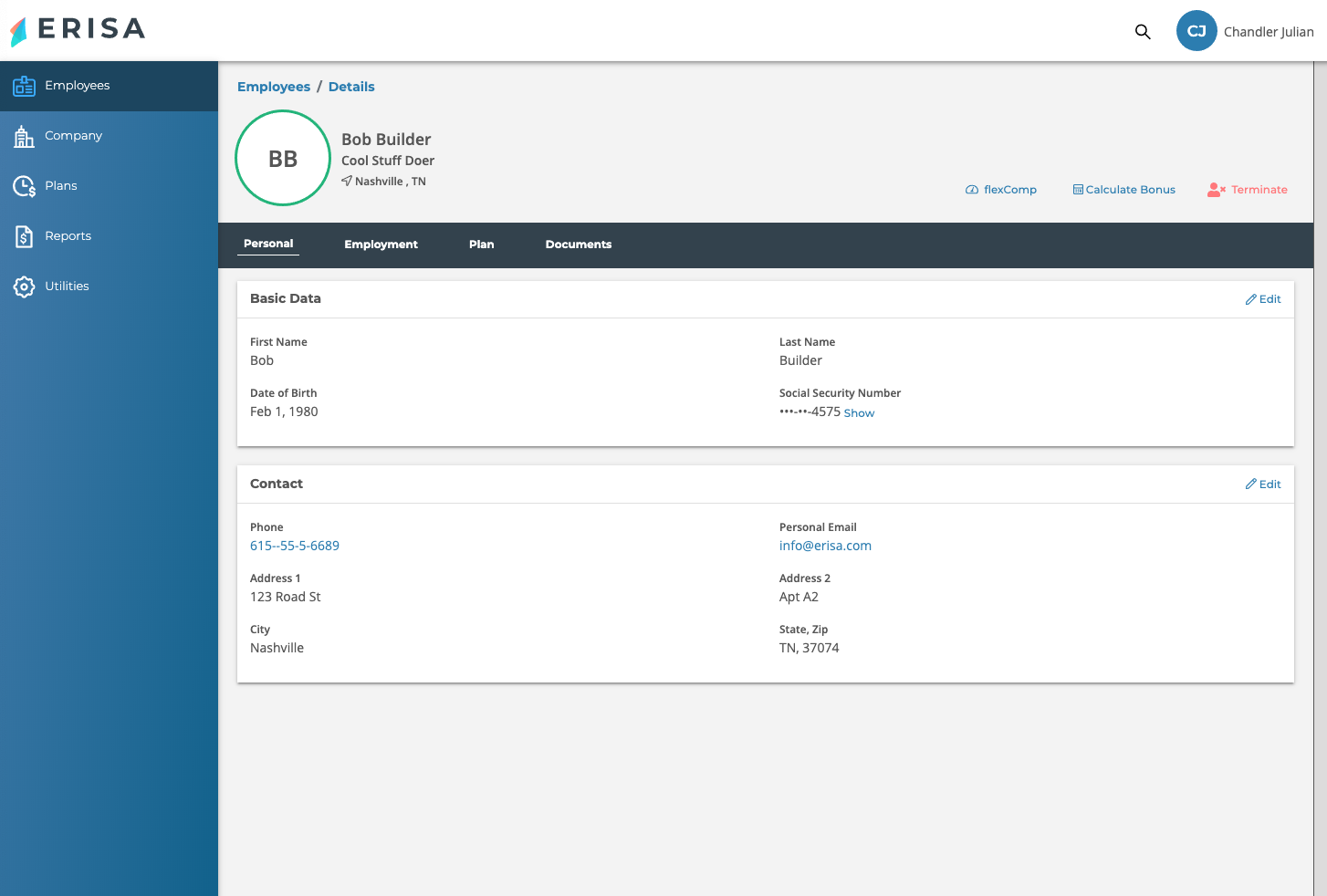 Employment Information
The Summary section is for job description and/or division assignments as well as key payroll elements, frequency, hours, employment status, bonuses/commissions.
Employment Events provides a visual timeline representation of an employee's significant employee events over time.
Compensation provides a chronological list of the effective date of payroll changes, the initial compensation and base compensation, as well as an active link to calculate a new entry.
Notes - Notes allow you to enter notes that you would like to keep about an employee. You can attach files to the note and come back and edit the note later if needed. Other portal users will be able to see the notes entered here. So keep in mind that these are not private to your user account. However, the employee will not be able to view these notes unless they have portal access.
Benefits - If other benefits have been setup for your company, the details applicable for each employee can be included on their employment screen. This provides a more accurate picture of an employee's total compensation (base compensation + benefits).
Compliance Events track when an employee receives required notices and disclosures so you have an audit log of those requirements being fulfilled.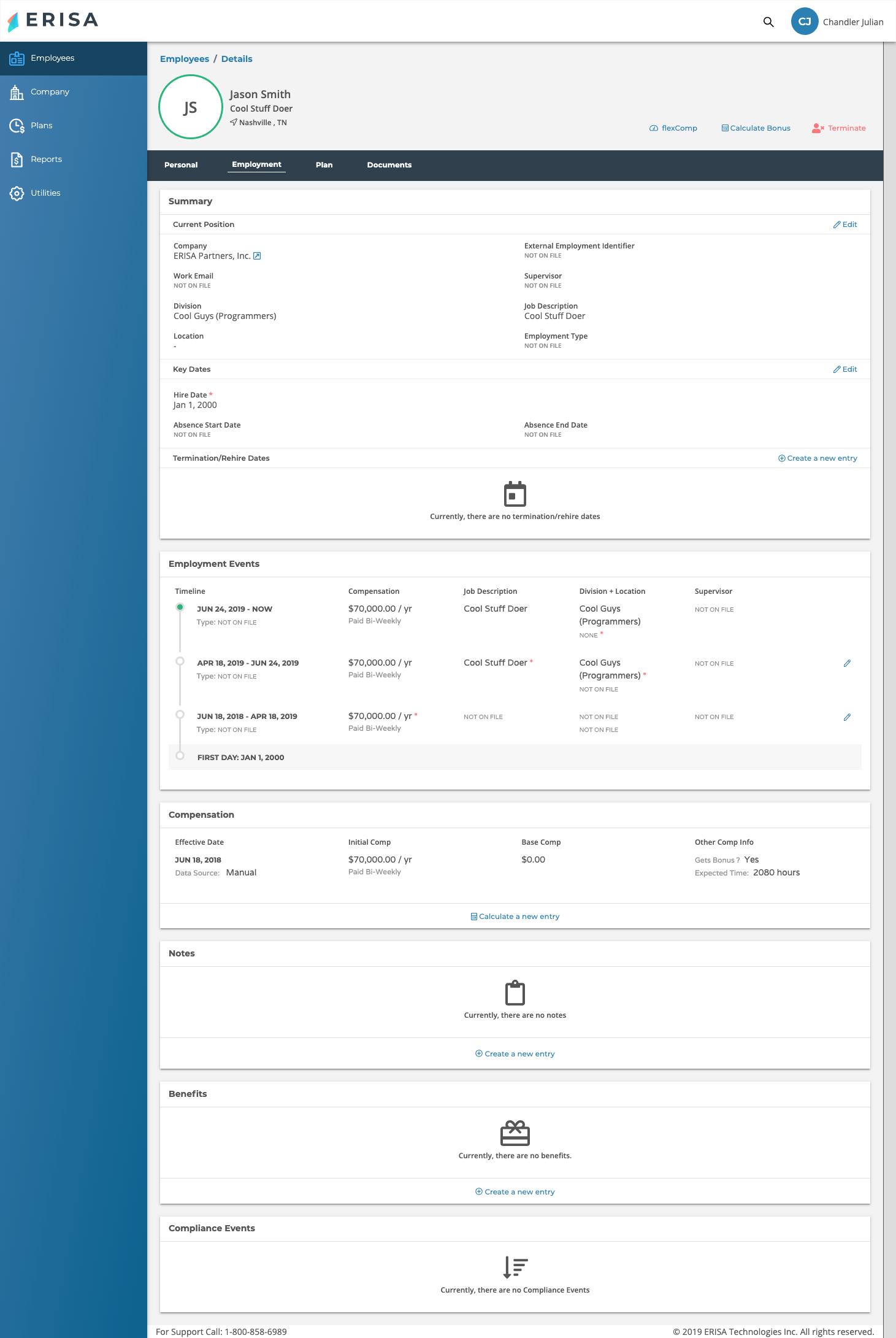 Plan Information
The plan information screen is a quick reference for the participation status of the employee, and their 401(k) contribution election, account balance, and investment election.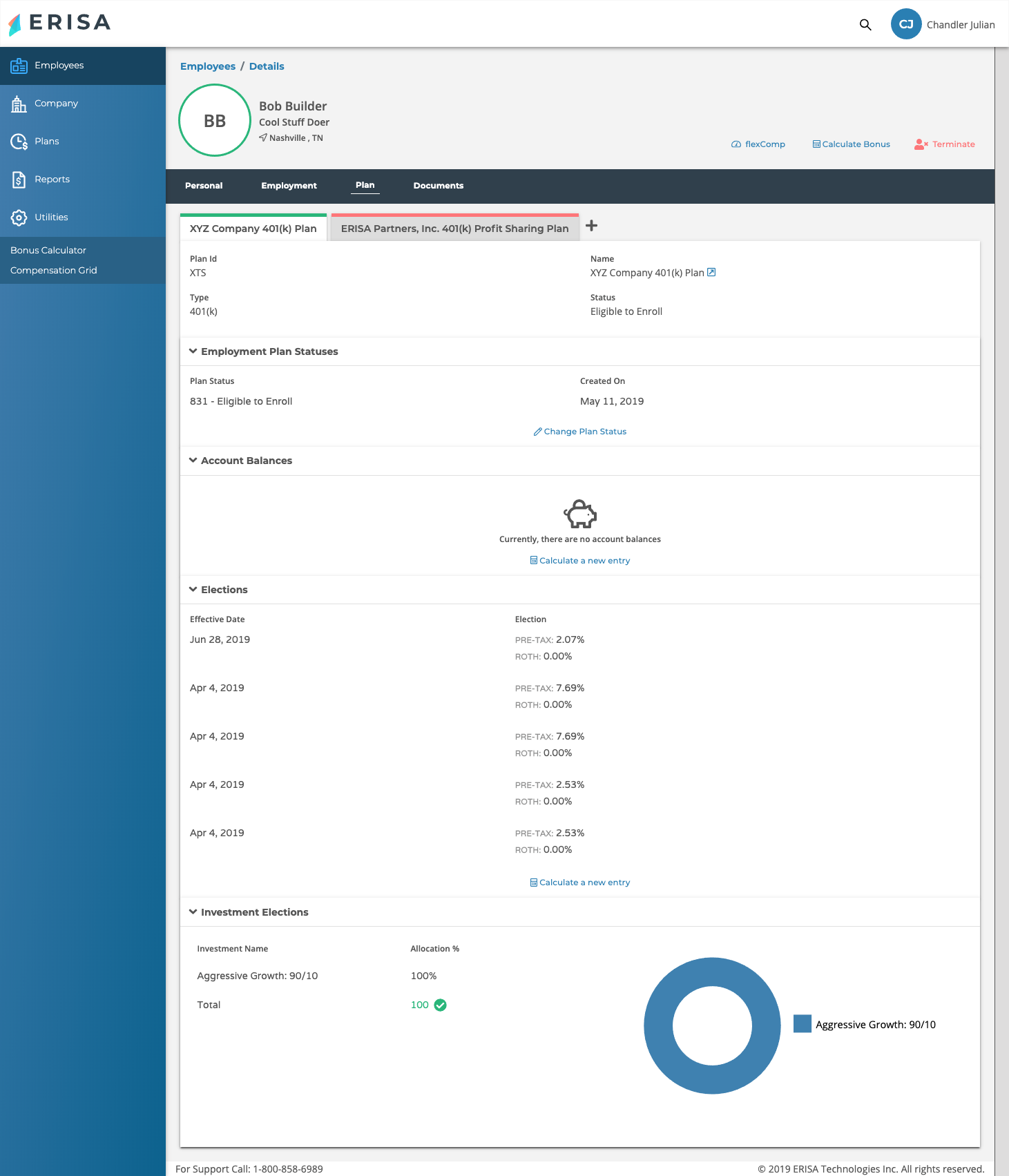 Documents
Documents are where you can store any document for an employee.